Selain bakso, hidangan mie hotplate di Malang juga menjadi favorit bagi para pecinta kuliner. Kalian bisa menemukan berbagai varian mie yang disajikan di atas hotplate dengan tampilan yang sangat menggiurkan di kota apel ini. Penggunaan hotplate semakin menambah kenikmatan saat menyantap sajian mie. Ditambah lagi dengan tambahan topping yang semakin membuat mata dan perut menjadi lapar. Buat kalian yang masih binggung, berikut beberapa tempat yang cukup populer untuk berburu mie hotplate di Malang.
1. Merlion Singapore Mee Hotplate
Merlion Singapore Mee Hotplate ini bisa menjadi pilihan kalian saat berkunjung ke Mall Olympic Garden Malang. Tempat ini menyediakan aneka olahan mie yang sangat cocok dan pas dilidah mayoritas orang Indonesia. Kenikmatan dari sajian mie semakin meningkat karena disajikan saat panas. Selain mie, ada juga menu lainnya seperti aneka nasi goreng dan beragam jenis minuman baik panas maupun dingin.
Alamat: Jl. Kawi Nomor 24 Kauman Klojen, Klojen, Malang
Jam Buka: 10.00-22.00
Kisaran Harga: 8rb-40rb
2. Nasi Goreng 69
Selain berada di Malang Town Square, Nasi Goreng 69 juga sudah ada di Mall Olympic Garden. Ada berbagai macam menu yang menggiurkan seperti olahan mie, nasi goreng, dan Chinese food seperti capcay, tamy capcay, nasi lada hitam dan berbagai macam minuman dengan harga yang relatif terjangkau yaitu antara 23rb-36rb.
Alamat: Jl. Veteran, Penanggungan, Kec. Klojen, Kota Malang
Jam Buka: 10.30-22.00
Kisaran Harga: 23rb-36rb
3. Mie and Steak Corners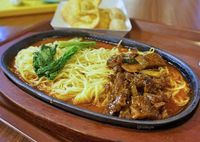 Lokasi Mie and Steak Corners ini sangat mudah ditemukan karena berada di pinggir jalan raya, sebelah Bina Ilmu Singosari. Tempatnya cukup luas dan bersih lho. Ada banyak varian steak dan mie yang disajikan saat panas menggunakan hotplate. Untuk harganya di banderol antara 11rb-51rb saja.
Alamat: Jl. Tunggul Ametung No.1, Candirenggo, Singosari, Malang
Jam Buka: 10.00-22.00
Kisaran Harga: 11rb-51rb
4. Hot Cui Mie
Hot Cui Mie merupakan salah satu cwie mie Malang yang terkenal dan legendaris di kota Malang. Rasa mie-nya sangat nikmat dan bikin nagih dengan penyajian dan pelayanan sangat baik dan sopan. Hot Cui Mie ini memiliki tempat yang sangat strategis yaitu berada di jalan utama mau masuk kota Malang. Ada pilihan menu menggiurkan seperti hot cwie mie dengan berbagi topping, mini super duper yami, wonton mie, song mie, cui mie kriuk, yamien dan berbagai macam minuman.
Alamat: Jl. Letjend S. Parman No.56, Purwantoro, Blimbing, Malang
Jam Buka: 09.00-21.30
Kisaran Harga: 4rb-20rb